As the world grapples with a pandemic of seismic proportions, we at ET-ILC bring to you an exclusive webinteraction with Dr. Janmejaya K Sinha, Chairman of BCG's India Practice, who will share key considerations to factor into when planning for challenges present and future. We believe these insights will help you navigate through critical challenges and prepare for a reshaped long-term competitive landscape.
Join this session to:
Hear key insights on the ongoing crisis
Prepare for the immediate and long-term impact of COVID-19
Webinar details:
Date: 6 May 2020 | Time: 10am – 12 pm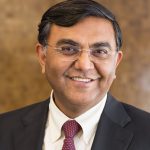 Dr. Janmejaya K Sinha, Chairman – India, BCG
Dr. Janmejaya Sinha is Chairman of BCG's India Practice and also a BCG Fellow doing research on the subject of Family Businesses. He is a member of The Boston Consulting Group's Henderson Institute Innovation Sounding Board, which is dedicated to supporting, inspiring, and guiding upstream innovation at BCG. Previously served as Chairman of the Asia-Pacific region between 2009 – 2018 and as a member of the firm's Executive Committee between 2006 – 2018.
He has deep expertise in managing conflict in family owned businesses. He has worked extensively with clients in the US, UK, Asia, Australia and India over a range of issues encompassing large scale organization transformation, strategy, governance, family business issues and operations turnaround. He has been a member of various committees set up by Government of India, Reserve Bank of India (RBI), Indian Banks' Association (IBA), and Chair's Confederation of Indian Industry's Committee on Financial Inclusion. Besides that he has been a member of Chief Minister's Bihar State Industrial & Investment Advisory Council and the Committee of Chief Ministers on adoption of Digital Payments. Currently, he is a member of the Steering Committee for setting up of the Resolution Corporation for India.
He writes extensively in the press and is a regular speaker at the WEF, CII, IBA, FICCI, RBI and other media events. He is a co-author of the book titled "Your Strategy Needs A Strategy" published by Harvard Business Review Press and has co-edited the book titled "Own The Future" published by Wiley. In 2010, the Consulting Magazine named him one of the Top 25 most influential consultants in the world.
Prior to joining The Boston Consulting Group he worked with the Reserve Bank of India for several years across different departments. He has also worked briefly for the World Bank. Dr. Sinha has a Ph.D from the Woodrow Wilson School of Public and International Affairs, Princeton University, US, a BA and an MA in Economics from Clare College, Cambridge University, UK and a BA and an MA in History from St Stephen's College, Delhi University, India.