Impact of COVID-19 on the industry vertical and how do you see the immediate quarter to look like financially?
The impact on the automotive industry is quite severe.  Even before COVID-19, the auto sector was facing many challenges which were aggravated by this pandemic. Volumes of automobile sales were already down due to weak economic situation and BSVI transition. The lockdown has further worsened the situation as the production is suspended. Industry will take some time to come to terms with this.
Most factories were shut down during this quarter and are gradually opening up, albeit with limited production. The supply chain was also disrupted and will take a while to come back to pre-COVID levels.  The decline in production and demand will take a toll on the financials in the short term.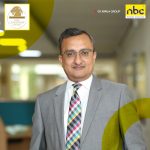 How are you preparing for the post-pandemic future?
In the short-term, our priority is to ensure employee safety and maintain social distancing.  Factories will run with reduced capacity.  We foresee staggered working for the coming months for the production environment.  Things will start to get to normal only after the vaccination for COVID is out and available.
Our teams are in active discussions with our customers and suppliers to keep on top of the demand and ensure supplies are available to deliver on our commitments.   We are also exploring how we can utilize our existing supply chain to bring more value to our customers.
What role do you think the government should play in calming the nerves of the industry in these trying times?
Government has come up with a stimulus plan with several incentives across industries and segments.  These reforms were needed and will help the industry cope up with the current crisis. There needs to be efforts on creating demand as well.  Starting new infrastructure projects will also help stimulate demand.
Crisis management- How are you as a leader coping with the same? How do you keep positive in these trying times?
This is an unprecedented situation we all are going through.  The most important thing during this time is to communicate, both with internal and external stakeholders.  This brings in clarity which helps in decision making.  The situation is changing rapidly, so we need to be flexible and agile in our approach.
I draw my positivity from the brilliant things people are doing in these times.  Closer home, NBC employees developed ambubag ventilator, splitters for ventilators, and face shields to help healthcare workers.  This is outside their regular work-scope but the passion to help with their engineering brains led them to progress these.
What measures should ILC take in this Crisis? What according to you should be our 3 most important deliverables to the member group?
These are learning times; ILC should extend the platform to include diverse industries to bring in different perspectives. Experience sharing of how different industries are tackling the situation and what are the key learnings will be of great help.  It'll also be good to share emerging opportunities and explore new avenues available to the industry.
About the respondent

Rohit Saboo is the President & CEO, National Engineering Industries Limited (NBC Bearings), and a member of The Economic Times India Leadership Council, India's premier C-suite collective that champions the cause of catalyzing India's economic and business growth.