On Apr 28th, ET-ILC held a webinar addressed by author and futurist Ray Hammond on how the world is likely to change post the pandemic and where the new opportunities lie.
Key Highlights & Takeaways
True normalcy will only return close to 18 months from now, when a cheap and effective vaccine is available
Essential ingredients, mission-critical manufacturing, medicines, vaccines – there will be a move to produce everything domestically. A degree of protectionism will seep in
The developed world has already rolled out $10.6 trillion in stimulus packages and will take on $66 trillion in debt, which is 122% of the world economy. It will take us decades to repay this debt.
Businesses across the world need bankruptcy regulations similar to US' Chapter 11
The state will play a bigger role in the economy now, something we haven't seen the government do in years
There will be new opportunities in remote working, digital medicine, distance learning, online retail, robotics and AI.
Sectors like real-estate, hospitality, travel and media are severely impacted
Business Impact:
The fundamentals for business will not change post Covid-19. Many businesses will continue to thrive. There will be new opportunities in remote working, digital medicine, distance learning, online retail, robotics and AI.
Sector-wise implications:
Real-estate: Likely to see a slowdown as companies consider work from home as a long-term solution and give up commercial real estate wherever possible.
Fintech: Will see a tremendous update. In Europe fintech apps have seen a 72$ increase in usage during the lockdown.
Education: Will move to a hybrid format balancing physical and online learning. Large universities in the UK and US are bracing for severe impact and lowering fees to lure students.
Hospitality: Airbnb cancelled 90% of bookings during the lockdown. This sector will take some time to bounce back. Hotels and restaurants may not be frequented by people even after the lockdown is lifted. Investors will now consider this a fragile and risky business and move investments away.
Media:  Print and television media will suffer greatly. In Europe, TV and print have already seen a 50% drop in ads. All advertising is currently happening online. Streaming services like Netflix and Amazon will continue to do well.
Events: Sports events unlikely to be allowed till a vaccine is found. Esports will do well.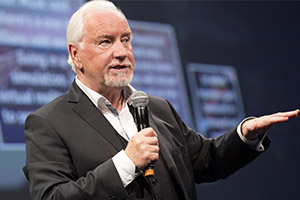 Speaker Profile:
Ray Hammond, British Author, Futurist, U.N. Gold Medal Winner
Ray Hammond is Europe's most experienced and most widely published futurist. For over 35 years he has been writing and speaking about the trends that will shape the future. His long record of accurate foresight is unique in Europe and he is now living in the technological future he first described 30 years ago.
In 2010 former President Mikhail Gobachev presented Ray with a U.N. Gold Medal for Services to Futurology. Ray is also a successful and proven business leader and serial entrepreneur. He has hands-on experience of creating and selling profitable businesses. Today, Ray is the author of 14 books about the future, a body of work which he began in 1980 and which stands as testament to the long-term accuracy and reliability of his foresight. His 1984 publication, "The On-Line Handbook", was the world's first book to identify the overwhelming importance of the Internet and to identify 'search' as the key driving force behind all future on-line advertising and digital commerce. He is based in London.